About the Conference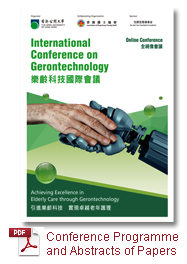 The Hong Kong government has been actively promoting the use of gerontechnology in responding to the challenges of our ageing population. Gerontechnology does not only promote independence among older adults, but also enhances their quality of life. This can further support them to age in place. Seminars and exhibitions organized by non-governmental organizations are commonly seen in Hong Kong, but seldom provide a platform for different stakeholders to exchange ideas and concerns. With this background, OUHK organizes the first international conference on gerontechnology in Hong Kong with the following aims:
enhance the understanding on gerontechnology among health care professionals;

provide a platform for stakeholders such as physicians, nurses, physiotherapists and paramedical personnel to present and demonstrate the latest technological developments as well as to share their challenges while implementing the technology in real situations;

facilitate the collaboration among stakeholders and develop user-friendly products for older adults.
The theme of the conference is: Achieving excellence in elderly care through gerontechnology
The conference will provide an interdisciplinary platform for local and overseas researchers, professionals, service providers and users to present and discuss the most recent innovations, trends, and challenges encountered and solutions adopted in the development and use of gerontechnology. By welcoming physicians, nurses, physiotherapists and paramedical personal researchers, product designers and developers, service providers and users such as older adults and their caregivers to present and demonstrate the latest technological developments, to share their challenges and to implement the technology in real situations, the conference can help bridging the gap between knowledge and practice and facilitating the development of user-friendly and user-centered technologies. Participants will gain a better understanding of the latest trend of gerontechnology development and the application of gerontechnology in elderly care.
The 2020 International Conference on Gerontechnology (ICG 2020) will be held on 25 – 27 November 2020 at Jockey via Zoom, The Open University of Hong Kong.
Topics of conference papers
Papers relevant to the following topic areas are welcome:
| | |
| --- | --- |
| 1. | Use of technology to promote active aging; |
| 2. | Use of assistive technology and smart home technology to assist aging in place; |
| 3. | Use of technology to facilitate workflow and healthcare services; |
| 4. | Gerontechnology in elderly care: potentials, challenges, and constraints; |
| 5. | Other topics relevant to the conference. |
Papers on all topics related to gerontechnology are welcome and paper on related topics will also be considered.
Conference language
The Conference will be conducted in English.
Abstracts submitted for presentation should normally be in English.
Workshop will be presented in Cantonese and Master Class will be presented in English .